Description
Ahuja 100Watt Amplifier in Bangladesh
Specifications
| | |
| --- | --- |
| Power Output | 130W Max., 100W RMS at 10% THD, 90W RMS at 5% THD, 80W RMS at 2% THD |
| Output Regulation | ≤ 2 dB, no load to full load at 1kHz |
| Input Channels | 5 × Mic 0.65mV/4.7kΩ, 1 × Aux 50mV/470kΩ, 1 × Aux 150mV/470kΩ |
| Frequency Response | 50-15,000Hz ±3dB |
| Signal to Noise Ratio | 60dB |
| Tone Controls | Bass: -10dB at 100Hz, Treble: -10dB at 10kHz |
| Outputs | Preamp 200mV/600Ω, Line 1V/1kΩ |
| Speaker Outputs | 4Ω, 8Ω, 16Ω, 70V & 100V |
| Power Supply | AC: 220-240V 50/60Hz DC: 24V (2×12V Car Battery) |
| Power Consumption | AC: 220VA DC: 3A |
| Dimensions | W420 × H135 × D290 mm |
| Weight | 10.5kg |
Ahuja 100 Watt Amplifier
5 Mic & 2 Aux Inputs.
Preamplifier and Line Output for connecting to a Booster Amplifier and for recording the programme.
Instant transfer to DC power (Car Battery) if AC power fails.
Bass & Treble Tone Controls cut type.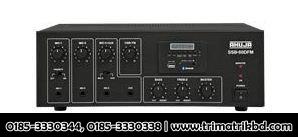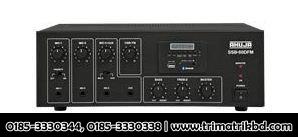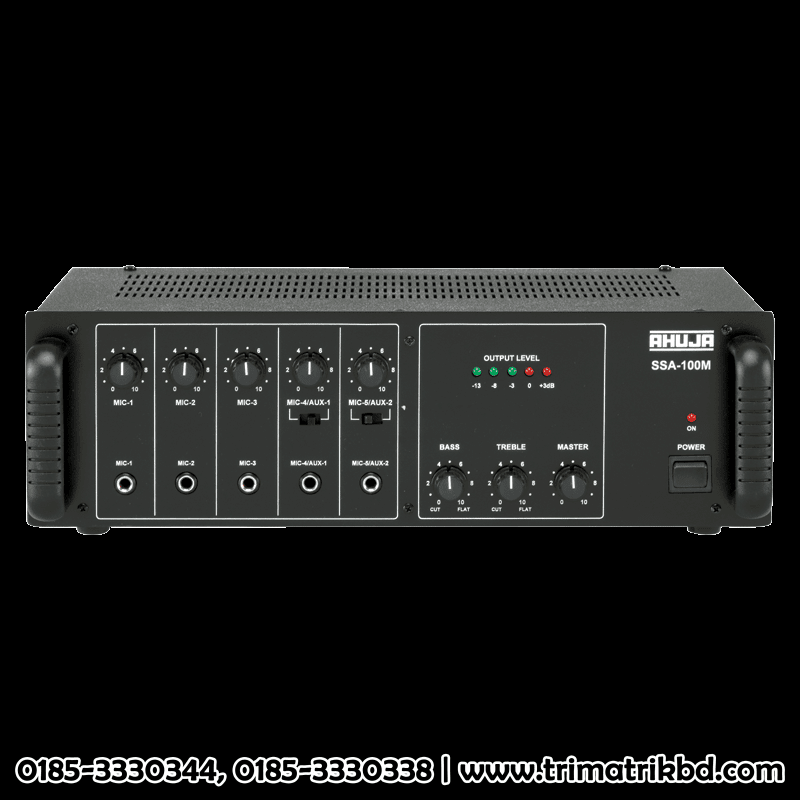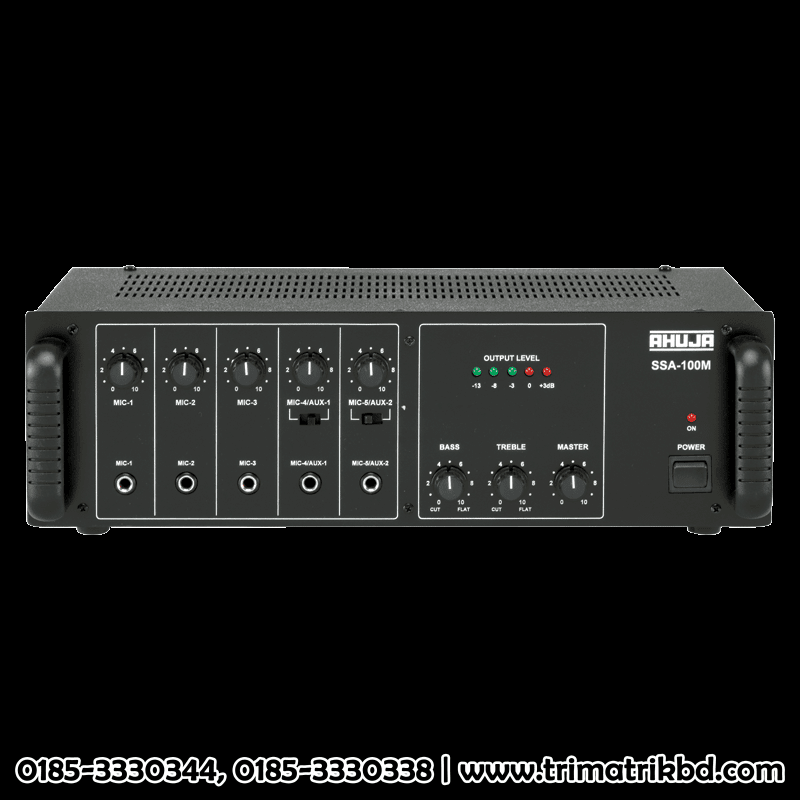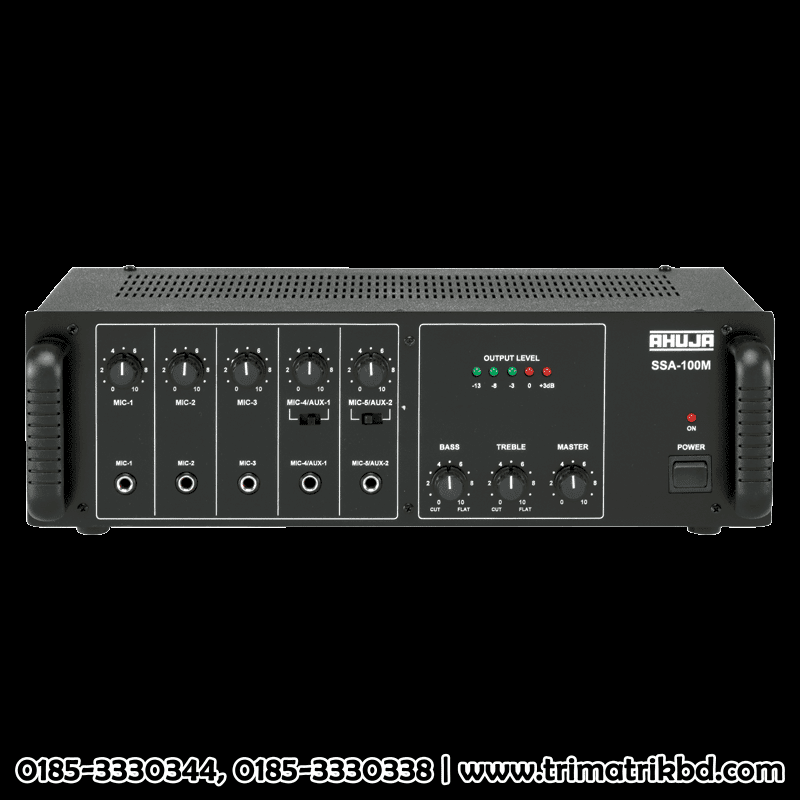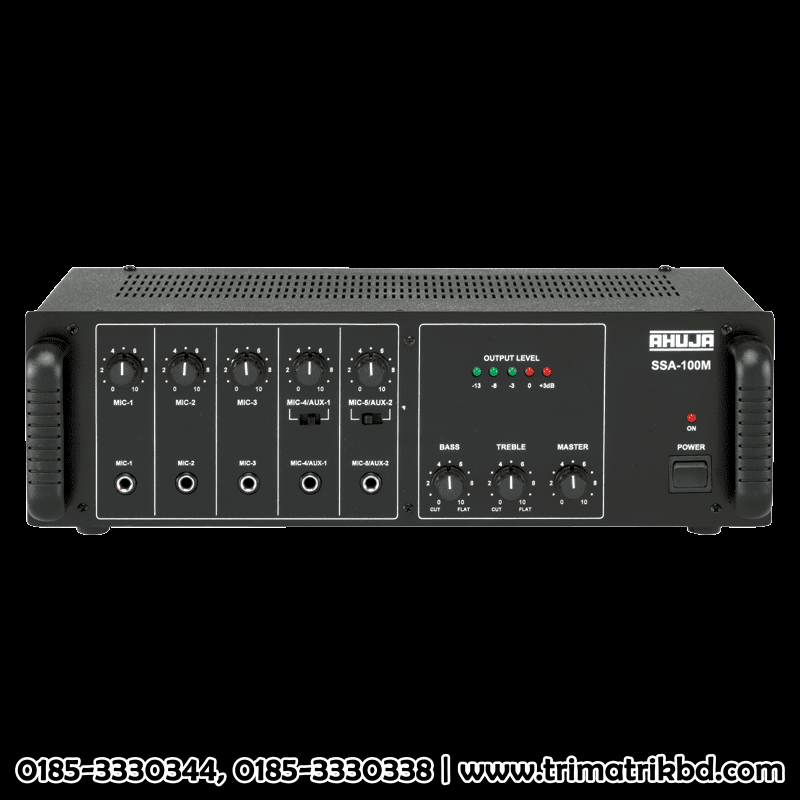 Ahuja 100Watt Amplifier Price in Bangladesh
TRIMATRIK MULTIMEDIA offers you Ahuja 100Watt Amplifier with the best price in Bangladesh Which, is your budget-friendly. We also offers you Service & installation with this Ahuja 100Watt Amplifier. Ahuja 100Watt Amplifier Price is 16,000 Taka. Order Online for nationwide cash on delivery or visit our Corporate Office. Follow us on Facebook for regular updates and offers. Subscribe our Youtube channel for reviews of Security & Automation Products.