Description
JFY 1.5KW On Grid Solar Inverter in Bangladesh-Dhaka, Uttara
The products cover a wide range of Solar Inverters (1.5KW~1MW), Solar Off-grid inverters (0.5KVA-200KVA), UPS, and Spring Solar Pumping inverters (550W-75KW). Their stable operation and excellent performance are universally recognized by users around the world. JFY Grid Tie Solar Inverter 1.5KW Single Phase 220V for 1KW AC Load. Warranty – 01 Year. Best Quality, Original Product.
Trimatrik Multimedia has an available 1.5K Watt On Solar Grid Inverter of different brands with the best market price for the Dealer or retail customers. Trimatrik Multimedia is a Bangladesh-based supplier of JFY any Model Solar Grid Inverter . The company offers a variety of goods, such as access control systems, Surveillance cameras, and EAS Security Alarm System IP Cameras. Trimatrik Multimedia has been in business Since 2009 and has a reputation for quality products and excellent customer service. You can buy from our head office (Dhaka, Uttara). We have dedicated Technical engineers to assist all over Bangladesh. The best pricing can be guaranteed for complete setup and post-purchase assistance. To know more details visit our website please Contact us at our Facebook Page or 0185-3330338, 0185-3330344.
High performance more reliable
Higher precise MPPT.
Rapid MPPT tracking technology.
Special technology to prolong relay life 2~3 times.
Transformerless design with higher operational efficiency.
Excellent thermal performance.
High overload capability under most ambient conditions.
Easy installation and maintenance
compact and lightweight.
Plug in and out the monitoring module.
Aluminum outer cover and humanization design.
Full data display and communications
LCD full display system status.
Bright LED indicators.
PC software for remote monitoring and system troubleshooting.
Integrated RS232 serial communications. RS485, WiFi optional.
Cost advantages
Transformerless and fanless design cutting down the cost.
Lightweight and small dimension, to reduce shipping cost.
Low maintenance expense.
IP65 protection degree, suitable for outdoor installation, reducing construction cost.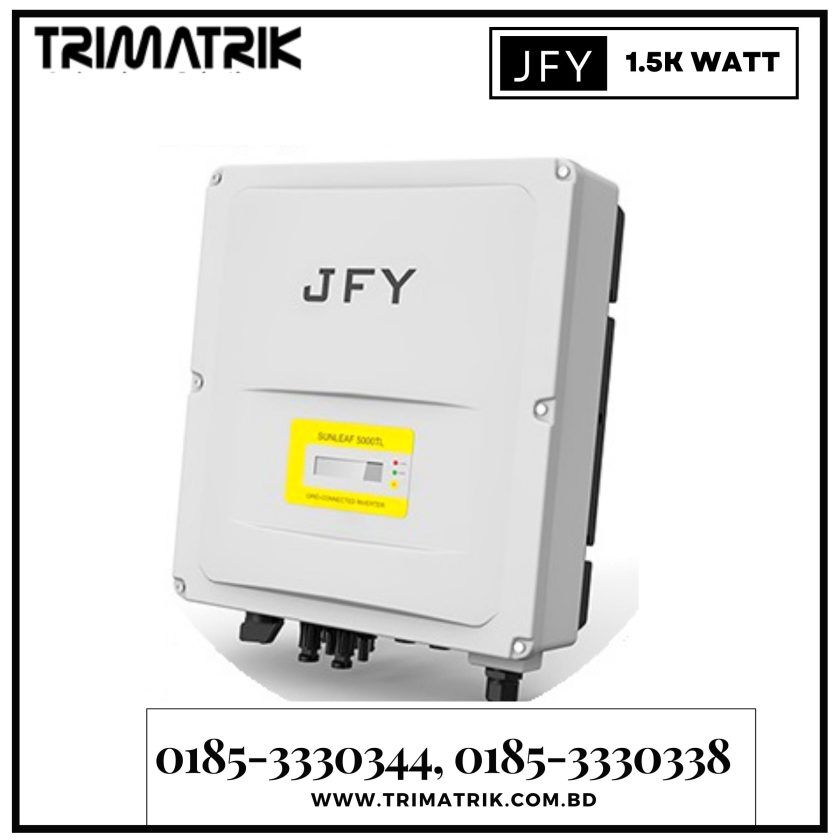 JFY 1.5k Watt Solar Grid Inverter Price (BD) for September, 2023
Price:

৳

40,000.00
Brand:
JFY
Origin
China
Item:
Solar Inverter
Contact No:
0185-3330338, 0185-3330344
Status:
In Stock
Warranty:
One Year
## Best Solar Grid Inverter Price in Bangladesh – Trimatrikbd
## JFY Latest Model Check price in Bangladesh- 2023
JFY 10KW On-Grid 3P Inverter (10000TL)
JFY 15KW On-Grid 3P Inverter (15000TL)
JFY 20KW On-Grid 3P Inverter (20000TL)
JFY 30KW On-Grid 3P Inverter (30000TL)
JFY 50KW On-Grid 3P Inverter (50000TL)