ZKTeco
Show Filters
Showing 1–16 of 59 results
ZKTeco Access Control in Bangladesh
If you are looking for a reliable, efficient time tracking and access control solution for your company's personnel management needs, look no further than the ZKTeco fingerprint & RFID card terminal. With its simple interface and low price point, managing staff has never been easier.The built-in backup battery ensures that there is no power failure onsite during an emergency so you can rest assured that data is secure even if your backups go out!

ZKteco Fingerprint Door Lock is a functional device with the ability to sense fingerprint and RFID tags as well as provide log-in service. It has extremely wide interface compatibility, including third party electric locks or exit buttons if needed. The ZKteco Fingerprint Door Lock is easy to configure in regards to data management. And most importantly, it comes equipped with a backup battery which negates any potential power outages. With an elegant appearance and reliable quality, the TCp/IP can be your best choice when shopping for door locks this season!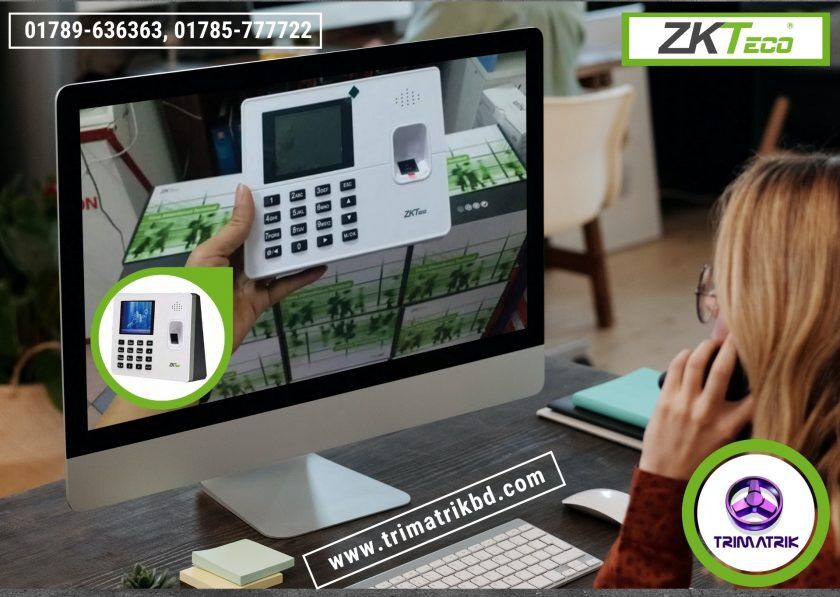 Beautiful and practical. TCp/IP and USB Host interface make managing data easy. Built in backup battery eliminates the trouble of power failure, with overall elegant appearance. All you need is ZKteco Fingerprint & RFID Access Control With Time Attendance!
ZKTeco Fingerprint & RFID Access Control With Time Attendance is a terminal that functions as door access control and tracks employees' hours clocked. It has an interface for third-party electric lock, so you can change the factory set lock from inside ZKTeco TCp/IP or USB Host. Built with TFT screen and simple electrical lock, this efficient fingerprint access control terminal is compatible with Windows 7. For extra convenience, it has a built-in backup battery that replaces the need to worry about power failure or voltage inconsistency. The elegant appearance and reliable quality make ZKTeco highly valued by everybody who uses it!
ZKteco Fingerprint & RFID Access Control With Time Attendance is a reliable, efficient tool to turn your office space into a safe and secure place. The fingerprint sensor ensures authentication, while the RFID component allows you to keep track of who's in or out of the premises at any time. We've installed an easy-to-use interface for managing data, along with some additional technologies that make this system second to none: backups power system for security against blackouts; USB Host Full Plug and Play Data Management Interface; Wireless Bluetooth Functionality Ensure ZKBooth Readable from 10 Meters Away. Get all these benefits working together today through dependable technology from ZKteco!
ZKTeco is a leading manufacturer of biometric door access control, fingerprint and RFID entry card locks in China. Trimatrik Multimedia offers cheap prices on ZKTEco Access Control machines with the best dealer price and authorized dealer service for the Bangladesh market.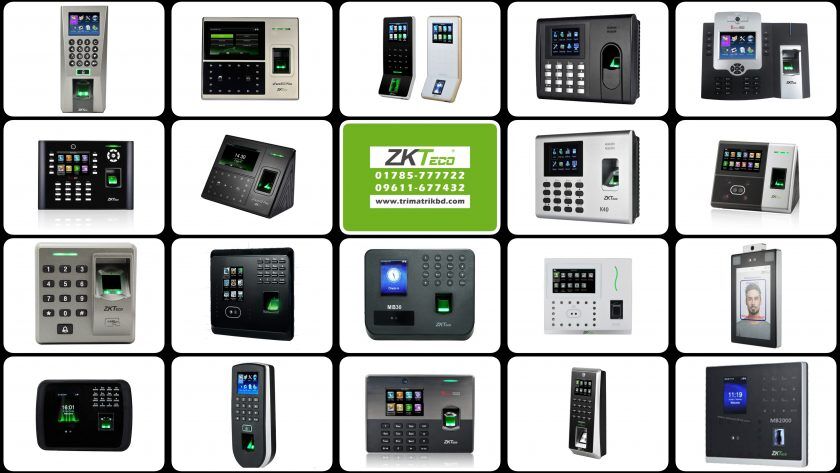 ZKTeco Access Control & Time Attendance
"ZKTeco is a leading manufacturer of access control and time attendance devices, systems, and software. We have many years of experience in the industry with products that are trusted by Fortune 500 companies worldwide."
"We offer you a wide variety of solutions to help you protect your assets, monitor your staff's productivity, enhance customer service levels and reduce operating costs." "Security at all levels is an important concern for any business owner or manager. ZKTeco offers the latest technologies like biometric fingerprint readers to ensure only authorized persons can enter restricted areas." "To manage your staff efficiently while maintaining optimum security levels, we also offer card reader terminals with an integrated printer which allow users to swipe their ID cards through them when they enter or exit.
ZKTeco is a leading innovator of access control and time attendance solutions. Our products are designed to be affordable, reliable, and easy to use. Whether you need card readers for security or biometric fingerprints for convenience, ZKTeco has the right solution for your business needs.
ZKTeco offers the latest in fingerprint technology with our new fingerprint series of devices that can read up to 10 fingers per second!

ZKTeco is an innovative company
ZKTeco is an innovative time attendance machine manufacturer. ZKTeco's mission is to provide high-quality, reliable, and affordable products on a global scale. ZKTeco is a company that provides access control and time attendance systems. If you're looking for a reliable access control solution, check out ZKTeco. We get the job done right!
ZKTeco is an innovative company that makes it easier for people to gain access to their facilities. We are TRIMATRIK, a supplier of innovative technology services for access control, time attendance, and fingerprint recognition. We offer the best quality products in our three core markets: Access Control, Time Attendance, and Fingerprint Recognition.
ZKTeco is a company that specializes in providing security systems, including fingerprint time attendance systems and access control. They are the world's leading suppliers of biometric products with more than 30 years of experience as a global manufacturer. Their advanced technology includes a face.

ZKTeco Access Control Price in Bangladesh
| | |
| --- | --- |
| Latest ZKTeco Models | Last Price |
| ZKTeco F18 (Finger+RFID) Access Control With Attendance | 9,800.00 |
| ZKTeco F22 (Finger+RFID); Wi-Fi | 12,000.00 |
| ZKTeco K40 (Finger+RFID) Time Attendance | 6,800.00 |
| ZKTeco F21 Lite | 13,500.00 |
| ZKTeco K60 (Finger+RFID) Time Attendance | 6,800.00 |
| ZKTeco iClock880 | 24,500.00 |
Access Control
Access control refers specifically to the prevention of entry of undesired individuals into a controlled area. This initially involves fencing off, walling or otherwise securing the controlled area. Then having some form of controlled entry and exit to that area. In it's simplest form this may involve a security guard at the entrance using face control or checking the credentials of potential visitors. In a more sophisticated form it may involve fingerprint readers attached to an electronic turnstile.
Access control does not specifically imply any recording of entry or exit times of individuals but it is a natural addition to any automatic system. Some systems do as a matter of course record entry and exit times of the candidates but this does not necessarily imply that there is any form of calculation of the hours that the candidate was within the secured area. As soon as you start calculating hours from this data, you are entering the realm of a Time and Attendance system. However the data collection methodology of a system specifically designed for time and attendance recording will usually have built in facilities for error correction such as an employee entering twice without exiting. Believe it or not this can be a big problem.
Time and Attendance
Time and attendance relates to the recording of the start and stop times of employees specifically for the purpose of calculating time-sheets showing hours worked and exceptions such as late arrivals. It is normally used for the purpose of calculating the wages of hourly paid employees. Sometimes companies want to keep track of salary earning employees to ensure that they are getting their fair share of their employees time and to reprimand tardiness and be made aware of any other exceptions. Time and attendance may be as simple as a book where employees write their arrival and departure times in, right up to a fingerprint time and attendance terminal linked directly to a payroll system.
Time and attendance does not imply any form of control regarding who is allowed to enter the premises but of course some Time and Attendance systems do offer an Access Control option which means that the Clocking terminal can be connected to an electronic lock and open the door simultaneously when an employee clocks in or out. These can be very effective if your access control requirement is a simple single entry point or two entry point system.
ZKTeco Access Control Price:
In 1985,
ZKTeco
(previously 'ZKSoftware') began research and development on a revolutionary biometric algorithm; this led to the release of our industry-leading fingerprint and face recognition algorithm. For nearly three decades since, we've worked to share this highly developed biometric technology to benefit others. Based on our initial breakthrough technology, additional ZK innovations created the world's first multi-biometric device, standalone fingerprint access control, and biometric access control panel. We are proud that these industry-changing products and solutions have defined the growth of the biometric industry.
ZKTeco Access Control Price in Bangladesh 2021:
F18 Price = 9,800 Taka
K40 = 6,800 Taka
uFace302= 23,500 Taka
ZKTeco K60 = 6,800 Taka